Taxes
"Working income is taxed at a higher rate than the non-working income"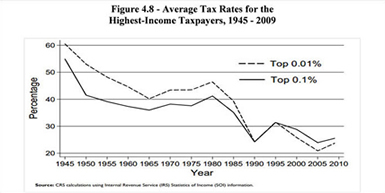 Did you know?
Working income is taxed at higher rates than the non- working income.
The average tax rate of the top 1% has declined from 60% in 1940s to 25% by 2010.
The NFL and NHL are considered non-profit organizations for tax purposes.
The corporate tax income is down from 40% in the 1940s to 10% in 2012 as a percentage of Federal revenues.
U.S. corporations do not have to pay taxes on over $1.5 trillion in offshore profits as long as they keep them overseas.
Almost 80% of Federal spending cannot be cut under the current law.
Americans spend 7.6 billion hours a year dealing with IRS requirements.
There is no plan to balance the budget in the next 10 years.